a film by Kitty McNamee + Lara Schnitger
Four dancers, each bearing their own burden, find comfort when their isolated experiences converge in a lush, emotionally intense exchange.
Featuring wearable sculptures created by artist Lara Schnitger and music composed and played by Flea, BURDEN HALVED traces the journey of four dancers struggling to manage their individual burdens. Only when they unite are they freed of the weight they each carry.
Screenings
Screendance Film Festival
April 29th, 2019 || Stockholm, Sweden || Screening at Dansmuseet
On Art Film Festival
July - September 2019 || Poland || Screenings at: Warsaw National Museum, The Amphitheatre at Łazienki Royal-Park, Królikarnia Palacen, and Park Żeromskiego
Seattle Transmedia & Independent Film Festival
July 25 - 28, 2019 || Seattle, WA || Screening at Factory Luxe
Hollyshorts Film Festival
August 8 - 17, 2019 || Hollywood, CA || TCL Chinese 6 Theatres
*Oscar Qualifying Festival
Skyline Indie Film Fest
September 12 - 15, 2019 || Winchester, VA
The Outlet Dance Project
October 3, 2019 || Hamilton, New Jersey
Moving Body
October 18 - 20 || Varna, Bulgaria
Santa Cruz Film Festival
October 9 - 13, 2019 || Santa Cruz, CA
Aesthetica Short Film Festival
November 6 - 10, 2019 || York, UK
*BAFTA Qualifying Festival
Cucalorus Festival
November 13 - 17, 2019 || Downtown Wilmington, North Carolina
Festival Internacional VideoDanzaBA
December 2 - 7, 2019 || Buenos Aires, Argentina

Director | Choreographer | Producer
Los Angeles-based Kitty McNamee is a highly regarded choreographer and director working across media. McNamee earned distinction from Dance Magazine as an artist with "an outsize talent for that most elusive gift, originality." Kitty began her career as the Artistic Director of Hysterica Dance Co., a consistently prolific and creative collective that redefined dance in Los Angeles. Kitty's work has been enriched by collaborations with composers, filmmakers, directors and writers on live performance, TV and film projects.
Recent work includes LA Opera's Tales of Hoffman, San Diego Opera's La Traviata, Target's "A New Kind of Strong" campaign, Secret Cinema's groundbreaking live performances with Laura Marling in London, the World Premiere of Colony Collapse commissioned by Oregon Shakespeare Festival and The Fantasticks at Pasadena Playhouse.
Kitty loves working with actors and is known for her ability to draw out organically nuanced performances. She has created for Paz Vega, Julianne Hough, Margaret Cho, Vanessa Williams, Vittorio Grigolo, Lily Tomlin, Anna Netrebko, Rolando Villazon, the boys of 90210 and the ladies of the L- Word. Kitty has loved getting down and dirty choreographing Beautiful and Twisted, Petals on the Wind and Lizzie Borden for Lifetime. She has created movement for music artists Laura Marling, Belly, Fono, Josh Kelley, Kait Weston, Kinky, Hecuba, Nicole Turley, Henry Wolfe and Ariana Delawari.
Concert stage work includes RIFT commissioned by Marin Alsop and Cabrillo Festival of Contemporary Music, colony for LA Ballet (both composed by Anna Clyne) and the creation of the new ballets Traces and Transit for National Choreographer's Initiative.
Kitty collaborated with music icon Easy Mike to create a new hip/hop ballet of "On the Waterfront" for Muse/ique. Opera credits include Tales of Hoffman, Lucia de Lammermoor, Don Carlo and La Rondine for LA Opera, La Traviata for LA Opera, San Francisco Opera and San Diego Opera, Romeo and Juliette for LA Opera and Lyric Opera of Chicago. She has a long and fruitful relationship with the LA Philharmonic, where she has choreographed, directed and developed new productions including Esa-Pekka Salonen's Wing on Wing.
On the commercial front, clients include Target, Mercedes, Adobe, GreyAnt, Uniqlo, Proactiv, Wynn Hotels, Devlinhair/Novartis, Flash on the Beach, MADD, Hexbug and Magic Sofa.
photo: Nathan Lusk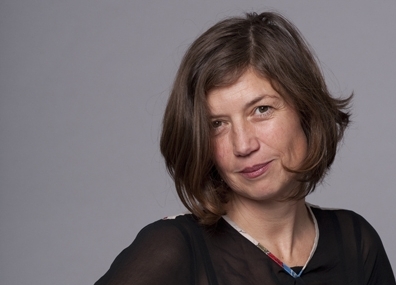 Art Director | Sculpture Artist | Producer
Lara Schnitger is a Dutch-American artist living and working in Los Angeles and Amsterdam. Schnitger studied at the Royal Academy of Art (The Hague) from 1987 to 1991 and spent a year in residency at the Kitakyushu Centre for Contemporary Art in southern Japan.
Schnitger works in knitted and sewn textile sculptures, collages, and quilts, as well as videos and photographs, and has produced a book about art created from mundane materials, titled Lara Schnitger: Fragile Kingdom.
Schnitger's work has been shown internationally at galleries and museums including Magasin 3 in Stockholm, the Chinese European Art Center in Xiamen, the Santa Monica Museum of Art, Kunstwerke in Berlin, the UCLA Hammer Museum in Los Angeles, P.S. 1 Contemporary Art Center in New York, The Power Plant in Toronto, and the Royal Academy in London. She participated in the Liverpool Biennial in 1999 and the Shanghai Biennial in 2002.
Recent Solo Exhibitions include:
2018 Suffragette City, Frieze Live, Frieze Art Fair, Randall's Island, NY;
2017 Too Nice Too Long, Anton Kern Gallery, NY;
Don't Let The Boys Win, Galerie Gebr. Lehmann, Dresden, Germany;
Suffragette City, Kunsthaus Dresden, Germany;
Lundgren Gallery, Mallorca, Spain;
2016 In Real Life: Lara Schnitger, Hammer Museum, Los Angeles, CA;
2015 Suffragette City, FRAC Champagne-Ardenne, Rheims, France;
Suffragette City, Parcours, Art Basel, Lichthof Building, Basel, Switzerland
photo: Diana Koenigsberg
Flea is an Australian-American musician, singer and actor. He is best known as the bassist and founding member of the rock band Red Hot Chili Peppers.
Flea incorporates elements of funk (including slap bass), psychedelic, punk, and hard rock. In 2009, Rolling Stone readers ranked Flea the second best bassist of all time, behind only John Entwistle.
Flea is also the co-founder of Silverlake Conservatory of Music, a non-profit music education organization founded in 2001 for underprivileged children.
photo: Diana Koenigsberg
Reshma Gajjar is a first generation American from parents of Indian descent. She was raised in Northern California and moved to Los Angeles on a dance scholarship to the EDGE Performing Arts Center. Reshma has toured the world performing with Madonna, Ricky Martin and AR Rahman. She has been featured on numerous television shows, commercials and films including 2 seasons of Vh1's Hit The Floor, Diesel's A-Z of Dance, 500 Days of Summer and had the honor to open Academy Award winning film, La La Land, as the girl in the yellow dress. Music video collaborations include artists such as Black Eyed Peas, Hozier, Logic, and Years and Years. She finds great joy in balancing work in the commercial industry while collaborating with different dance companies like Hysterica + Rosie Herrera Dance Theatre, designers like Kenzo + Levis, and artists like Lara Schnitger + Kitty McNamee. Reshma is also an actress, model and ceramicist.
photo: Meeno Peluce
Zak Ryan Schlegel is an internationally recognized dance artist, teacher and choreographer. He creates original works independently, as artistic director of LA- based AXIOM Dance Theatre with partner Denna Thomsen and is company member and soloist of Shen Wei Dance Arts in New York City, touring the US and internationally, most recently premiering new anti-opera "Neither" to critical acclaim. New York Times calls him "a star" and Wall Street Journal "eye-catching & effortless". He holds a BFA in Dance Performance from Chapman University.
Zak currently creates an evening length, experiential sound bath "Liminal" with Jonsi and Alex Somers of Sigur Ros, recently collaborated with Floria Sigismondi for artist Lawrence Rothman and curates a bi-monthly dance salon "Congress" harmonizing cross-genred dance voices. Zak has performed the works of Jennifer Backhaus in Backhausdance, Yin Yue in YYDC, Ryan Heffington, WIFE, and Kitty McNamee. He received formative training from Rafael Bonachela at Sydney Dance Company, Danielle Agami, Helene Blackburn, Lucas Crandall and has recently participated in Gaga research with Ohad Naharin and Batsheva Dance Ensemble members in Tel Aviv, Israel.
Additionally, Zak can be seen in music videos, print and national commercials including Britney Spears, Sigur Ros, MIKA, Fitz and the Tantrums, Years & Years, Sam Sparro, The Pierces, Japanese Breakfast, Toyota Prius, Lexus, Sleep Number, FLAUNT and OUT Magazine.
photo: Meeno Peluce
Raymond Ejiofor, a Gates Millennium Fellow, earned a Masters of Public Health Policy from USC and his B.S. in Decision Science from Carnegie Mellon University. He began his dance training under Judith Rhodes Calgaro in Arlington, VA and the Dance Theater of Harlem. Ejiofor has danced and created works with Daniel Ezralow, Ryan Heffington, Aszure Barton, Lula Washington, Bryan Arias, Danielle Agami, Sidra Bell, Kyle Abraham and Robert Battle. Ejiofor currently collaborates with various companies including Ezralow Dance, Ate9 Dance Company, Lula Washington Dance Theatre, Heidi Duckler Dance Theatre, Post:Ballet and David Roussève/REALITY. Some of his credits include the 59th Annual GRAMMY Awards, MTV VMAs, Audi, Toshiba, Hermès, Samsung, Apple, Beijing Dance Festival, Springboard Danse Montreal, Israeli Opera House, and Lincoln Center: David H. Koch Theater. He has performed with artists such as Sia, Katy Perry, Pharrell, 30 Seconds to Mars, Little Boots, Fitz and the Tantrums, and Daft Punk. | www.raymondejiofor.com
photo: Meeno Peluce
Derek Schiesel is a dancer and performer based in Los Angeles, California who has trained since the age of 7 in ballet, jazz, contemporary, and modern dance techniques. After graduating from the University of Minnesota with a B.S. in Biology, Derek moved to California to pursue a professional career as a performing artist. Since the beginning of his career, Derek has performed for major recording artists such as 30 Seconds to Mars, Beck, Jason Mraz, Meghan Trainor, and Sigur Ros. He has also danced in commercials and industrials for companies like LG, Sprint, Dell, and MAC Cosmetics in addition to appearing on TV for Jane the Virgin and the MTV VMA's.
photo: Meeno Peluce
Lori Lovoy-Goran is a Los Angeles based film editor. She received her BA from Georgetown University and MFA from the University of Southern California School of Cinema-Television.
Lori is an editor on the upcoming HULU feature documentary, KID90, directed by Soleil Moon Frye. She also edited Becky, a short film from Cameroonian director Victor Viyuoh, which recently played at the Seattle International Film Festival and the Pan African Film Festival. Notably Lori edited the independent feature, After We Leave, directed by Aleem Hossain, and was an additional editor on The Last Time You Had Fun, directed by Mo Perkins.
Lori's short film, In Between Days, played at numerous festivals and won Best Short Documentary at South by Southwest Film Festival, as well as a DGA student film award. Her narrative short, Awake, debuted at the Seattle International Film Festival.
Pavel Yatsenko - Cinematographer
Adam King - Sound Designer
Majd Mazin - 1st Assistant Camera
Meeno Peluce - Still Photographer
Julie Schmid - Associate Producer
Kourtnie Labay - Production Assistant
Miyuki Kawamura - Production Assistant